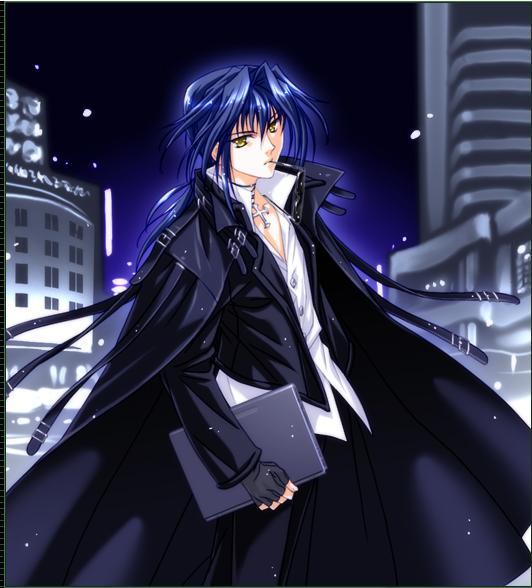 EverNight
Clan Application
Basics
First Name:Artix
Middle Name:Tedmund
Last Name:Voncreg
Nickname(s): Art, Arty, Ted, Teddy. Teddy bear when people want to annoy him.
Age:16
Birthday:4/3/1993
Clan:vampires
Element:fire
Special Ability:
soul synchronisation
Explanation & Limits of Gift:
Artix has the ability to synchronise with the soul of nobunaga, which is encased in his blade. His appearance, his personality and his power all change. He becomes extremely aggresive and cruel but in exchange his power is increased ten fold. Artix also has the ability to synch with other soul's but it's not as effective.
While Artix is in synch with nobunaga, all of his features dissapear and nobunaga himself take's over this means anybody Artix may be close too might be in danger around him.

Weapon:
Oda's blade/soul slayer


Explanation of Weapon:

This katana has existed since the ancient edo period of japan, when a demonic man threatened to unite the land under his tyrranical rule. His name, Nobunaga oda. The demon king.This was the very blade he used to kill many many people during his long and arduos campaign for power.

His method's were no doubt questionable, he believed that anybody on the battle field that was not an ally posed a threat to him, if not then, sometime in the future and so all were murdered whether they were villager or soldier.

Just before nobunaga died at the hands of his trusted general all of the evil power he had collected within this sword pulled his soul into the very blade, and now here he sleeps, waiting to re-awaken.

The blade is stained red with the blood of countless innocent lives it has slain. The hilt aswell as the guard has been warped and faded black from nobunaga's ambitious aura of darkness. Sometimes, when the blade peirces mortal flesh the sound of nobunaga's maniacle laughter echoe's out.
Physical Appearance:
Artix stands at exactly 6ft. His hair is slightly wavy and split's down to the side of his face when it reaches the front, its long enough to tie back, which he does however it often comes loose.
His eyes are a brilliant golden yellow with a darker shade of brown around the edges.
His face is thin and slightly pointed at the chin, his face often harbours a blank expression while he thiks but as company ensue's he quickly becomes more friendly.
he wears a slightly unbuttoned, long sleeved shirt and he leaves the end's left untucked. Over this he wears a black dress jacket with no pockets, apart from the one inside the jacket where he keeps his strange item's.
Slung over his shoulder's is another long and belted leather jacket which people often mistake for a cape.
Black jeans are adorned below the torso, as well as a pair equally black boots which have been worn with use.
The only accesory he chooses to wear is a single silver cross which he wears around his neck, this was given to him by his sister just before she abandoned him however he has no recolection of ever having a sister. Enscribed upon the back of the cross are the words "have faith, dont forget
General Attitude/Personality:.
In general artix is a rather friendly person, smiling all the time and always willing to talk. But this is a mask to hide his true feelings, only when he feels he can truly trust you will he reveal whats underneath that mask.
During battle a small portion of his true self rear's its head and he fights with a vacant expression, always staring straight ahead, focusing on nothing but the enemy before him. relentless and unforgiving, anybody watching him fight would think him a demon.
While he is synched with nobunaga however Artix takes on a completely changed personality. Constantly wearing a look of curiosity and wonder but at the same time something in his eyes tells people to stay away from him.
He attempts to invade people's minds by tricking them with words and threats.
While fighting he adornes an insane grin which grows from ear to ear and show's both rows of his sharp jagged teeth. Fighting like a true god of war he never lets up, never tire's and never surrender's.
Truly a cruel master mind known only as nobunaga oda, the demon king
Goals:

Artix seek's to purge his sword of the evil spirit lurking within and unlock the secrets that his own memory holds, while attempting to remember his own past
Likes: he enjoy's fighting with just about anybody, the better they are, the more he enjoy's himself.
Another thing he enjoy's is talking to people with interesting back drops. Hearing storie's from people is just on of the things he enjoy's about social contact.
He likes to challenge himself, if there's something he cant do, he'll keep trying until he succeed's
Dislikes:
He hates people who only think of themselves, he thinks that they are blind to whats truly there.
He hates the spirit residing in his sword, so cruel, so blood thirsty, and so annoying.
people who dont know when to shut up. Nuff said.
Bad Habits: Ignoring people as they try to start a convorsation with him.
becoming too serious during a friendly spar and accidentally hurting his opponent
Fears. This may never happen but he fear's that one day nobunaga will take over his body.
he's scared that when, or if he regains his memory that they will be bad one's that may hurt him
Other:
The Past
Parents: both unknown
Siblings:Rose voncreg (sister)
History:

Artix, tedmund voncreg
born: march 4th 1460
parents: emily ----- and ----- voncreg
other close relatives: ------ and rose voncreg
birthplace: london ----- -----
the rest of the birth certificate was illegable, smudged by the water of time. certain names on the certificate has been smudged out and others had simply been worn away by the darkness of the cardboard box it was stored in. This was the third time Artix's older sister Rose had shown him his birth certificate and he was bored of it already.
He skimmed it over one or twice before standing from the black leather sofa that sat in their tiny run down shack of a front room and was heading for the door when his sister grabbed his arm, stabbing him with a look of rage. "Where are you going?" she asked with anger that rattled the house.
Artix stared up at her with a confronting look, he was fourteen at the time and his sister was nineteen, towering over him like a powerful female giant but he didnt falter.
"Im going outside, i know that bloody certificate off by heart" Artix began with a scowl but before he could continue his sister had cut him off. "You should be grateful that this certificate even exist's" she said, her anger rising slowly.
"Why should i be greatful for a piece of paper?" he asked, wrenching his arm from his sisters grasp and staring up at her that same look of oposition burning in his eye's.
"This piece of paper" she said waving it around furiously " is proof that your alive" she finished slamming it down upon the coffee table.
By now Artix was growing angry and he instantly went into one of his matter of fact rants. "for one that certificate hasnt even got a decent name on it so i dont know who my parents really are. I dont know where i was born so i cant go and look for them. the only thing that i recognise on there, is your name: rose. Now you dont know who mom and dad are and you dont know where they might be either, in other words your completely useless to me, you may as well not even be my sister." He ranted, his voice growing louder as he progressed. Once he had reached the end of his rant he had grabbed the door handle and slammed out. leaving his sister standing helplessly in the front room, tears welling up in her eye's.
Once artix had slammed the door behind him, the cold winter air stung his face. he was fuming, why did his sister think that he needed babying all the time? Something in the air seemed to have calmed him, he turned to open the door and apologise to her but his anger quickly assumed its role as he thought of all the arguments they had, had over the years. each one was unfairly lost.
he turned on his heel and left the front door of his small shack like house behind as he dissapeared behind a corner, his shadow sticking to the wall in the sunlight.
he returned not until the next day. the front door was strangely unlocked, his sister very rarely left the door unlocked during the night, unless they were expecting company and as far as he knew nobody was supposed to be here today.
He stepped into the pitch black hallway "Rose?" he called out as he slowly crept along, trying not to bump into anything. "Look, rose im sorry about yesterday....i was just so..." he stopped himself as he reached the front room. Cloth's, DVD's, CD's and even the tv itself all lay on the floor strewn across the room. Artix's eyes widened with fear. He had spotted a note on the table. "no" he muttered with disbelief. His hands trembled as he read the note.
It was written in Rose'sneat and curly hand writing.
Artix
Im so sorry for holding you back
I never realised until now that
You have grown up. You dont need me any more.
Some of the ink had smudged, she must have started crying while she wrote the rest of this note.
Ill leave now Artix, it seem's that
this is what you want. You no longer
have to put up with me hindering you.
Goodbye.
love
Rose
P.S
I will always love you, little brother.
Enclosed inside the note was a small silver cross which artix held to his chest tightly "rose" Artix muttered in disbelief as tears began to flow down his cheeks.
Suddenly a blood curtling scream filled the room. Artix spun to see a flash of light. and then.
CRACK
A sudden stab of pain. Then all went black.